Reminder of the previous message
Published 22/05/2021 @ 03:49:04, By
Baube
If they offer an AWD system ( in option ) like in the 3 that could be interesting..
Published 22/05/2021 @ 04:24:32, By
night cub
Published 08/06/2021 @ 23:16:10, By
night cub
The big news today was the official introduction of the 2022 Ford Maverick pickup in North America. A return to the small pickup market for Ford, this will be their first FWD, Unibody, Hybrid, Crew Cab style pickup for this market. Sizewise, it is about the length of a Chrysler 300, so small is a relative term. It will also be Ford's cheapest offering in the US, with a starting price undercutting the EcoSport by a few hundred dollars. The base engine will be a hybrid with a 2.0L Turbo as an option. 4WD is available on the non-hybrid engine. The bed is a small 4.5 foot, but they are saying 6 feet with the tailgate down. It will be built in Mexico, alongside the Bronco Sport. It goes on sale in the Fall. It will compete with the new Hyundai Santa Cruz and Honda Ridgeline.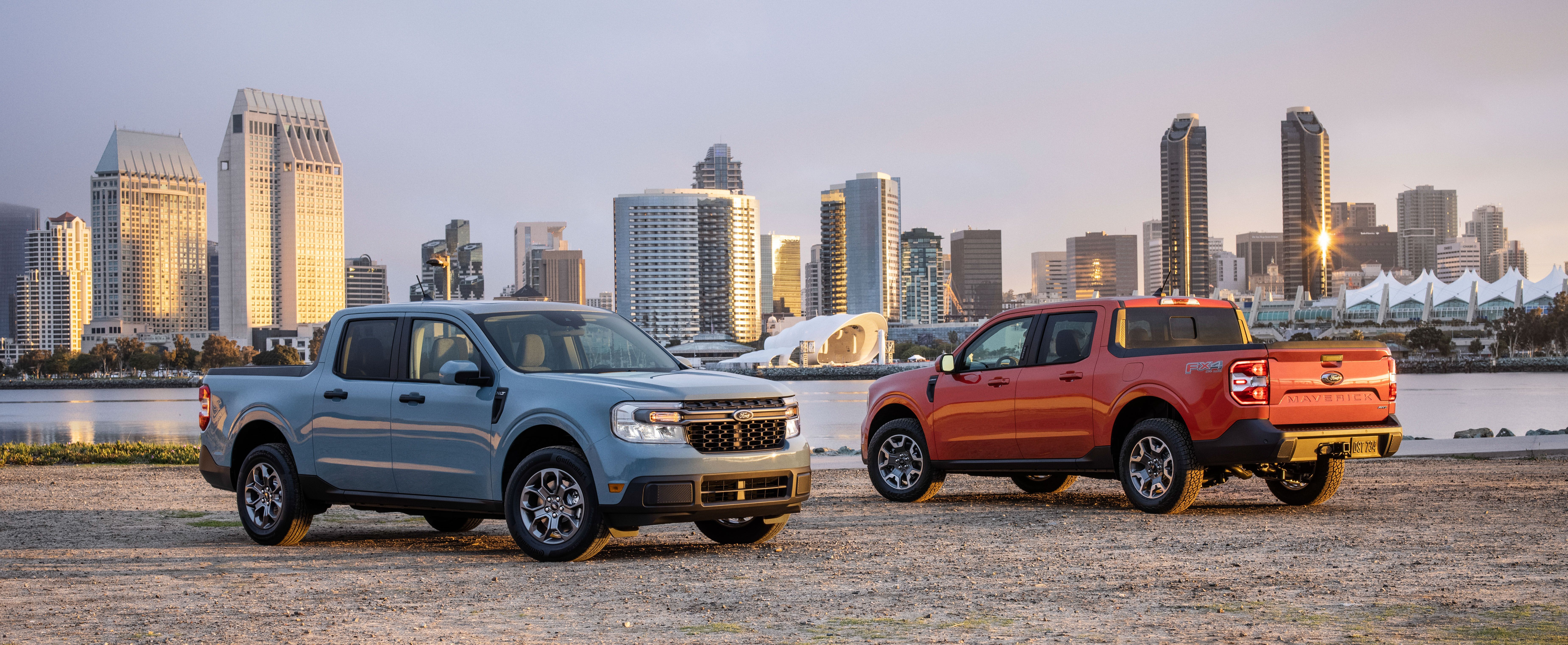 https://www.ford.com/trucks/maverick/2022/
https://www.caranddriver.com/news/a36607631/2022-ford-maverick-specs-revealed/

Latest Edition: 08/06/2021 @ 23:18:58
Published 09/06/2021 @ 16:00:59, By
Gamer
It's confusing enough that we have a Ford Maverick coupe and TWO Ford Maverick 4x4s, one a rebadge of a Nissan Terrano and the other an Australian-exclusive rebadge of the Nissan Patrol. Now a pickup as well?

Latest Edition: 09/06/2021 @ 16:02:13
Published 10/06/2021 @ 04:33:54, By
night cub
Published 12/06/2021 @ 06:08:39, By
Exiv96
"Europe, where roads are tight and space comes at a premium."
Really ? Is the author confusing Europe for Japan, perhaps ?
Anyway, I didn't notice the pickup market was declining in Europe, with all the imported Rams running around my neck of the woods...
Published 12/06/2021 @ 12:30:12, By
Sandie
Probably the real reason is that we already have the Ranger. Though there are a lot fewer options now (after Mitsubishi pulling out and Nissan not importing the new Navara, off the top of my head in the UK just the Ranger, Hilux, Isuzu D-Max and a small trickle of SsangYong Mussos.).