06/10/2015 @ 02:50:31: Baube: Weird car-related dreams
Two days ago i had that dream : i was working for a used car dealer and my boss gave me to fill 2 papers to put on new cars (well, not 2015-2016 but new to us ) windows. Both were Eagle Premier, both quite unique as one was a coupe and the other was a convertible.....
Am i the only one to dream about non-existing versions of existing cars ?
any other car-related dream that you want to ( or can ..
) share is welcome here..
06/10/2015 @ 11:47:35: Sandie: Weird car-related dreams
No. But I can't really think of an example right now.
Dream I had a few nights ago involved someone bringing a late 1970s Chevrolet Caprice round, something like: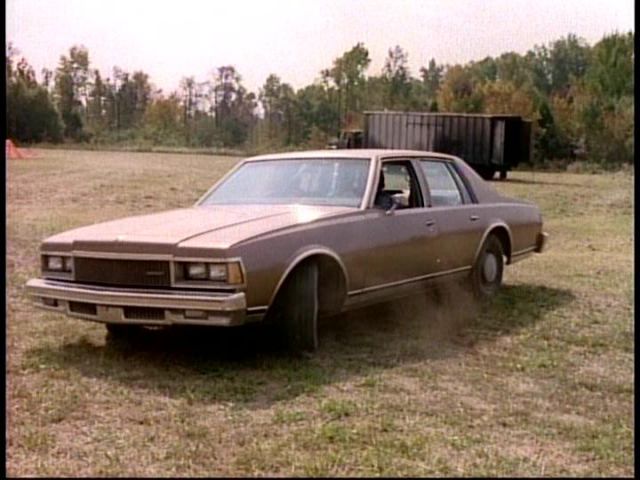 I then attempted to drive it up and down my street from the back seat using one of those grabbing claws used by litter pickers. Needless to say the car struggled to stay under control and the sides took a lot of damage from hitting other cars.
Seems a common enough theme for a dream:
http://www.thecrazyfacts.com/top-10-common-dreams-meanings/10/
06/10/2015 @ 13:13:44: rjluna2: Weird car-related dreams
A week ago, I dreamt that I was driving the paint roller on the road
06/10/2015 @ 13:26:14: Lateef: Weird car-related dreams
I had this one during spring. It happened on the pathway between two housing project blocks. For some reason I'm dressed up as a punk (Dr. Martens boots, jeans and a jean vest), and I'm with this small blonde boy (about 10-12 years old) and we're turning the corner of a cloth-dryer cage, when we hear this strange noise. Sort of like a rumble. I immediately push the kid backwards in a manner saying (stand back, I'll go check it out). As I turn the corner I spot a light-blue Ford Taunus TC2 sedan, missing its right front wheel, coming towards me at slow speed. There's no one behind the wheel. I instantly come forward and I kick it once violently on the right front fender. This very sequence repeated a few times (probably why I remember the details so well).
06/10/2015 @ 16:37:29: Gamer: Weird car-related dreams
About a year or two back, I had this really stupid Cars (the Pixar movie) related dream where I was in Radiator Springs as the only human. Sally was singing a strange song according to which she had a motorbike engine ("Early each day, when my motorcycle heart.." to be sung to the intro of "Feed The Birds" from Mary Poppins) I then took over the mic and sang the rest of the song. Upon finishing, I was complimented by the other cars. And then? I cannot remember

In another dream I was in my old house, running from Weegee, who was chasing me. There was a silver Skoda Octavia 1U (likely my grandpa's) in the parking lot, I ran down the stairs, got in it and the driver gunned the striking engine as quickly as he could. Although I was looking away, I could hear Weegee thrashing against the Octavia. We then zipped through what I believe was Berlin, and I sat there with an uncomfortable feeling that Weegee was real.

That one was SO bad, I woke up in sweat and stayed home from school the next morning.
02/11/2015 @ 10:37:02: Gamer: Weird car-related dreams
Last night I had another nightmare, which was a lot like a movie trailer; one quote was "It's nothing but a creepy Kermit." Anyways, some cars did appear - if I recall correctly, there was a white Suzuki Alto like this
https://upload.wikimedia.org/wikipedia/commons/e/ef/Suzuki_Alto_front_20080116.j- pg
driving down the sidewalk and smashing into stuff, with a 1995-98 Peugeot 406 in the background. The scene looked like it was filmed in Romania or Bulgaria since, IIRC, the 406 had a US-sized plate.
15/11/2015 @ 15:04:03: Purzel89: Weird car-related dreams
The last car-related dream involved a Renault Twingo with Volkswagen badge. They named it Volkswagen XC350, while the XC means "Xperimental Concept". That was actually a good looking Volkswagen for once.
Looked like this:
Btw, i once imagined how a second season of Team Knight Rider would look like.
Cars:
Panther
- This dark blue (almost black) 2010 Chevrolet Suburban is an ex FBI vehicle and everyone pays respect to him. My idea of Panther is based on several appearances of Suburbans in movies:
http://www.imcdb.org/vehicle_437711-Chevrolet-Suburban-GMT931-2010.html
Black
- A white 2005 Chevrolet Express. It was originally black but after a crash they painted it white. He is jealous about the other cars, because the other cars do so many important things and he has nothing to do. Later Black becomes a FRV (Fast Reconaissance Vehicle), which helps to coordinate the opeartions. He also helps Chief, because Black can see more than Chief when he is directly inside the action.
Jess
- She is a female 2011 Chevrolet Camaro Hot Wheels Concept. FLAG chose her to add some feminine attitude into this boy group. Jess is always calm and collected, but can get really excited about too many things. Falls in love with a Mustang later. The youngest car in the group acts very childish.
Chief
- A Winnebago Chieftain fits almost too well as the Chief of the group. He plans and controls all operations. When Chief is not working, he improves his plans. Chief has a "Work first, fun later" attitude and dislikes Jess' childish approach on things.
Episodes:
It starts with a 2-Hour pilot.
Black is Back Part 1
- After Black goes on a city wide rampage, a psychologist named Carl is consulted to find out the truth about the personality change of Black. Why has Black changed from a friendly car to an aggressive and brutal vehicle?
Black is Back Part 2
- The second part of the 2-Hour-Pilot consists mostly of Flashbacks from Blacks past. Carl desperately tries to find out what happened in his therapy sessions with Black. Black tells him about the accident he had and that he was repainted. He thought, that everyone just used him as a car and not as a being with a personality. So Black resumes that nobody really cared about him and his feelings. Thats the reason why they didnt ask him about the color he wants. Carl also finds out that Black has befriended with some older FLAG cars (Attack Beast, Knight Rider 2010 and Dante) and they plan to take revenge of what the humans had done to them. But in the final fight, Carl can convince Black to change the sides again and kill Attack Beast, while Dante escapes in fear. The ugly Knight Rider 2010 commits suicide.
15/11/2015 @ 17:14:18: Gamer: Weird car-related dreams
But the Season 1 team still appears, I hope? It would be better if the 2008 KITT is destroyed - Beast's too good and vital a character to be destroyed.
I made up Calypso - sand colored 96 or 97 Ford Thunderbird like this
http://media.ed.edmunds-media.com/ford/thunderbird/1997/oem/1997_ford_thunderbird_coupe_lx_fq_oem_1_500- .jpg
to fit with the other then-new Fords. Driven by me. Has a faible for "Weird Al" Yankovic (like Beast does for Alanis Morissette) and a crush on Domino, which sometimes comes to my annoyance.
Oh yes, and on the subject of TKR, perhaps I will adapt the complete series as a book starting December 1 - I'm in the mood for doing another novel.
15/11/2015 @ 17:59:00: Purzel89: Weird car-related dreams
No, i like the 2008 KITT. But we could get rid of the 2008 KARR, the Transformers hippie...
Maybe KARR was rebuilt.
23/11/2015 @ 19:44:43: Gamer: Weird car-related dreams
Last night I had another strange dream - I picked up a toy version of Mack (from Cars) but he had some odd stickers on his cab, like some writing in white on a green background and a simple sun made out of circles. I pressed a button, and a screechy, raspy voice from the soundbox said: "All units, please respond!" Then I woke up - I think.
24/11/2015 @ 05:48:04: Ddey65: Weird car-related dreams
Every now and then when I was a kid, I used to have a recurring dream where I'm driving what I assume was a next generation Volkswagen Van (this was before the Vanagon came out) north on New York State Route 112, and it's a typical crowded two lane drive... until I reach Granny Road, and I start to see some construction along the way. This gets me excited because it means that NYSDOT is finally widening the road. I don't remember what I saw in "downtown" Coram, but afterwards it looks like the widening is at or near completion. Things get better, because I see that the intersection with Patchogue-Mount Sinai Road is also in the process of being converted into an interchange. Further north than Pine Road, I see some brand new lane configurations starting with intersections like Washington Avenue, Jefferson Avenue and North Bicycle Path, and then even better; New York State Route 347 has already been converted into an interchange. Finally after the intersection with NY 25A, I find that NY 112 has joined it in a multiplex as it enters downtown Port Jefferson. I grab a ferry to Bridgeport, Connecticut, but the construction of a new bridge across the Long Island Sound is impossible to ignore. I am on my way to a great New England driving adventure.

Unfortunately, the only thing from those dreams that ended up happening in real life was getting a van, and it was my junky '85 Toyota. There was some construction on NY 112 between Coram and Port Jefferson a few years ago, but the damn road was kept at two lanes!!

That's not the only car-related dream I've had, but it's the first one I can think of right now.
03/12/2015 @ 01:12:26: Purzel89: Weird car-related dreams
Once i had a dream about a crash at a place i had never been before. There was an intersection, with one row of trees on the left and a fuel station on the right. The crash involved my car having brake problems.

Some months later i was on a vacation with my work group and i was driving my car with three girls. I had never been in that town where we did our vacation trip. While i was driving down a cobbled road i needed to stop to let another car pass through and yet i breaked a little harder as necessary. Suddenly i heard brakes screaming and i looked into my rear view mirror. A Volvo V40 was approaching from behind and he couldnt stop in time anymore. The Volvo swerved to the right and crashed into my car, causing only minor damage. Cause of the crash: Too fast and overestimated brake power on cobble stone.

The interesting part: Just one kilometer away was an intersection, with one row of trees on the left and a fuel station on the right. Since that day i take dreams seriously and as a warning.
03/12/2015 @ 05:54:54: Baube: Weird car-related dreams
That kind of dreams is always fascinating
29/12/2015 @ 13:53:09: rjluna2: Weird car-related dreams
Last night I dreamt that I was watching a videotape of an old movie of H.B. 'Toby' Halicki presenting chase between his 1971 Ford Mustang
(modified as 1973)
(before the Gone in 60 Second chases) and John Deere combine harvester.
I started to watch the videotape and somewhere along down in the line where a brief distorted image (where it has been a repeated rewind used tape that starts to stretch a bit) that the chase is just started to begin.
The chase started somewhere in a very small town with a boy driving the John Deere combine harvester at the field to the surface street. 'Toby' started his chase with his famous Mustang and the combine harvester. That was it
29/12/2015 @ 20:33:40: Baube: Weird car-related dreams
Last night i had that dream about buying a 2015 Mustang convertible, which, stangely, didn't had the same headlights/tailights as the real one. I was so in love with my new car that i did a replica with a really huge Rubbermaid-like transparent wheeled storage bin ( not sure of the good word ), big enough for me to sit in it and i was driving my bin everywhere in the house but i don't know how it was moving ( pedals ? electric ? don't know.. )
13/01/2016 @ 16:22:56: Gamer: Weird car-related dreams
When I was very little I had something which I recall was real, but which my parents say was a dream. Anyways...
I was in a stroller on the patio of my grandparents' house in Bargteheide, and my parents and grandparents were loading an MK4 Golf that looked almost exactly like this:
https://data.motor-talk.de/data/galleries/0/139/9976/17674404/golf-front-36992.JPG
except the green was a bit lighter. Can't remember the rest.
09/02/2016 @ 13:17:34: Lateef: Weird car-related dreams
Had a dream yesterday, actually - I was carpooling home with some girls in my class in my live-in neighbor's electric blue lightly pimped VW Polo 6N2. Once the girls had exited at each of their destinations (including the girl who was driving it) I remained seated in the right rear seat as the car suddenly drove off without anyone at the wheel. I thought this was normal, until I realised that the car was driving west (the opposite direction of where I live) and I became uneasy.

After some time, the Polo stopped at a fictional gas station near a roundabout - the setting is a fictional version of Volda (where I currently live) which is much bigger and to some extent nicer, having an assortment of larger medieval era three-story houses and Swiss-type timber lodges. Still, it feels like a limbo (like London in Ashes to Ashes) with a more grey atmosphere and less people in the streets.

At the gas station (which was a typical 1950s one at that) I exited the Polo and entered the gas station and did something there (I don't remember what) - then I got out and saw that the Polo had been replaced with a grey Nissan Prairie M11. I got in and started driving it, and for some reason the driving characteristics were shot to hell (sluggish accelration, poor brakes, poor visibility, poor seating - but came with an automatic so no complaints there) - so I was basically very dissapointed with it - especially since I really liked these cars.

Suddenly my dad is sitting next to me and we're having this driver's ED session. Out on a narrow country road we get overtaken on the right (!) by a purple 5-door 90-series Toyota Starlet with a bunch of screaming asshole teenagers in it. Then all of a sudden there's a red light that appears in the dark - I assume it was there due to the narrow road, allowing cars from each directions to pass single file. My dad urges me to hit the brakes, but I react slowly, and so do the brakes - and we barely avoid crashing into a VW Passat Variant B6 in its Alltrack variant (which doesn't exist) of the Norwegian police. The cop car speeds away, not taking notice that we'd overshot the red light by ten metres.

After that I have no memory.
11/02/2016 @ 00:13:31: Lateef: Weird car-related dreams
This one actually haunts me a bit and I'm sorry I share it in detail but it felt so real and I feel the need to get it off my chest. When I was enrolled at folk high school back in 2013-2014, I dreamt about my roomie, who was an exchange student from Moscow. As he headed home during autumn break - I suddenly had a dream about him (the first, and so far only).

I was watching a fresh dashcam video shot somewhere in sunny LA - for that reason the camera car remains unknown - but lets just say it was a Corolla. The Corolla approaches a stop sign in a one-way street, and we can hear the occupants exchanging words - I don't remember what they said, but whom I assumed was the driver sounded like a young female with an Asian accent and the other guy had a light Eastern European accent. Suddenly, a grey Chevrolet Cruze makes a quick and decisive turn from the left, crashing head on with the Corolla - it can't have been driving faster than 20 kph, but for some reason the male occupant immediately begins moaning in pain, then the tape cuts. It was only then that I thought the moaning sounded like that of my roomie - only more intense. But I wrote it off at first as a coincidence.

In the video description, it stated that the female driver survived although being in shock, while the male occupant had died before ER could assist him - which I found odd, as it appeared to me as just an everyday fender-bender, seen in thousands of dashcam videos before. Brushing it off, I went to sleep. Then I wake up because I needed to check if it really was my roomie whose life had been claimed in the accident. As I look for my phone, I realised it was just a dream.
19/02/2016 @ 07:58:36: Baube: Weird car-related dreams
Had a funny dream a few nights ago : it was summer and i was going somewhere ( don't remember where ) . I forgot my camera at home and it was like wave after wave of nice cars to take pic of..... Ferrari, Lamborghini, old cars from the 20's to the 80's, muscle cars , and some other things that you look at and go like : " That thing still exists ?! " . They were everywhere.. parking lots, red lights, parked in the streets.... and i was
at myself, almost banging my head on the steering wheel...
19/02/2016 @ 19:45:31: ingo: Weird car-related dreams
Some days ago I had dream, where I was walking on narrow indistinct roads, due the scenery looking like nearby the Baltic Sea. I became very angry about myself, that I didn't got -as usual- my camera with me, because several totally rotten Mercedes W123 were chasing each other in the oncoming traffic. Very angry about myself I became, when a Volvo 740 Estate with Dutch plates was crashing directly in front of me into a tree on the left.

There were some more details, but I forgot them.