Published 16/09/2016 @ 17:33:33, By
Sandie
Currently we have our UK Metrocabs listed as
MCW
(1987-89, default),
Reliant
(1989-91),
Hooper
(1991-2000) and
Metrocab
(2000+). I've always doubted the validity of Hooper being used as a marque (unlike the previous names Reliant and MCW they didn't really seem to use their brand on the cabs) so I did a little checking.
I found a 1995 brochure that refers to the manufacturer as "Metrocab (UK) LTD" a couple of times with Hooper seemingly being only a parent company (like VW are for so many makes but we don't call them all Volkswagens):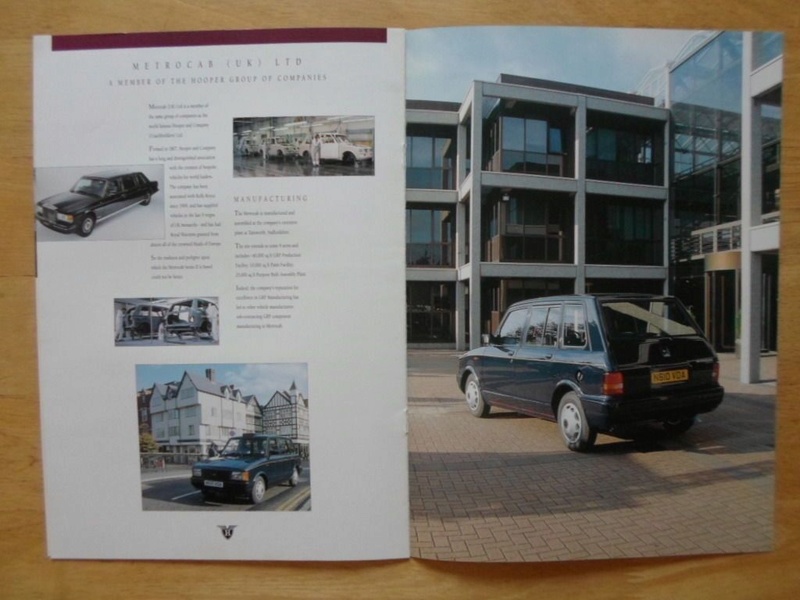 And the inside of a Metrocab with a sign saying "Manufactured by Metrocab (UK) LTD":
So based on this the make seems like it should be "Metrocab" as it is for the last ones built by Kamkorp.
It's not completely straightforward, there's a subtle little Hooper badge on most of the cabs (on the oval with Metrocab on it) and I also found this advert referring to the Hooper Metrocab: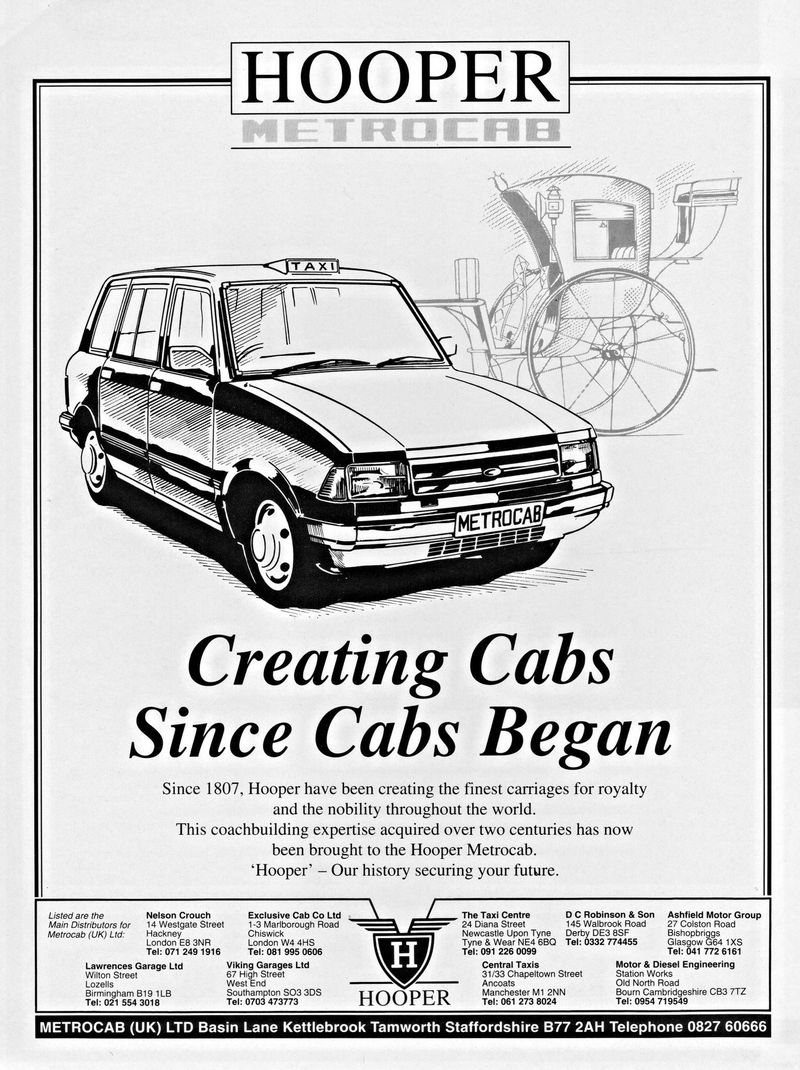 At first I thought it was a time thing with them using Hooper for a time (this is an early ad as it is for the Series I Metrocab) before moving on to just Metrocab but then I noticed even this ad refers to "Metrocab (UK)" as well.
IMO, on the balance of evidence these Hooper Metrocabs ought to be named just with Metrocab as make. It's how they were (mostly as seen above) marketed and probably how they are best known by people. It would also clean up the way they are listed a bit (reducing from four makes to three). I also suspect some people get disappointed if they look up Hooper as they expect coachbuilt Rolls Royces but find fibreglass taxis assembled from what looks like a random selection of spare parts.
Anybody else got any points, contrary views based on the evidence above or new evidence they wish to contribute?
P.S: Anybody got any info on the
Russian Metrocabs
? Is Moscab the manufacturer or importer or just an operating company? The intriguing thing is that the Russian ones seem to be from the early 2000s (from registration checks) but the Series II style stopped a couple of years earlier here.
Published 30/09/2016 @ 21:08:46, By
antp
I'm not sure what's best
If you think it is better to use Metrocab than Hooper as make, from the arguments you mentioned it seems to be acceptable...
Published 03/10/2016 @ 01:14:50, By
dsl
Found this sequence
on wiki
:
1] MCW: The company was created by Metro Cammell Weymann (MCW) as a taxicab manufacturing enterprise, producing the MCW Metrocab from 1987.
2] Reliant: In 1989, Reliant acquired Metrocab from MCW, and transferred the plant to Tamworth.
3] Hooper: Following the collapse of the Reliant Group in 1991, Metrocab was bought out of receivership by the vehicle coachbuilder Hooper. In December 2000 the company suspended trading, and the corporate recovery firm of Leonard Curtis was appointed as administrators.
4] Kamkorp: In June 2001, Kamkorp purchased Metrocab's assets from the receiver and restarted production under the new holding company Metrocab (UK). In April 2005 Metrocab restarted production of the Metrocab after a 14-month suspension. Production of the original Metrocab finally ceased in April 2006. In 2014, the electric-powered New Metrocab was launched. It is the first authorised electric-powered London black cab.
(which seems to be the same as Sandie's opening comments - either confirms that info or is the same source). Digging about for Hooper in the 90s is fairly blank - it came out of the coachbuilding firm, but seems to be a trading name as much as anything. But it covers a nine year period so was a significant episode, and rather stronger than the fairly brief Reliant phase. Which means that we should organically have loads of Hoopers compared to Reliants. Maybe a good trawl of the MCW batch would produce them.
Or we're trying to be too clever by splitting stuff which has minimal visual differentiation, so relies (too?) heavily on plate-dating and record info (which does give some branding info, but not necessarily consistently or reliably).
So I think 3 options
(a) bumble along as we are - no-one seems to mind the current system and a few folk seem to be aware of the naming issues, although it's almost certainly producing inconsistencies
(b) dig in and bring out the full Hooper period examples as much as we can, and get these noticed so folk understand the new emphases. It might also end up enlarging the Reliant numbers
(c) abandon Hooper, but to me that means abandoning Reliant as well as keeping it would be anomalous. So this option effectively becomes make everything just MCW.
Maybe (b) has already been done in practice - I was surprised when I looked how few pages there were across the different brands. I've now exhausted my envelope, and without coming up with a preferred suggestion. The only potentially useful thing I can give is that if Hooper goes, Reliant should as well. So the choice becomes (a) or (c).
Published 03/10/2016 @ 02:46:53, By
Sandie
The difference with Reliant from Hooper was that it was clearly used in branding and sometimes badging in the same way as MCW was:
In comparison, going over the later Metrocab brochure there is no reference to Hooper other than the page posted above saying Metrocab (UK) LTD was a member of the Hooper group of companies. It's not that the Hooper period was a short or inconsequential one, just that it seems to be the wrong name for it and that these ones should have Metrocab as make.
All the Reliants (save for:
http://www.imcdb.org/vehicle_747057-Reliant-Metrocab-1990.html
which could just as easily be an MCW) are also confirmed, solid identifications by plate info or badging which I think supports their retention. The few errors I have spotted are with ones listed as MCW and Hooper but I still have more checking to do and I think it's worth sorting the naming convention before getting on to the cleaning (and anyway, like with the Reliants, all of the Hoopers with years - by either plate or visible details - are already rock solid IDs).
So I'm arguing for a) but with Metrocab (already used for the Kamkorp ones) replacing Hooper per the brochure and then a little bit of b).

Latest Edition: 03/10/2016 @ 03:14:52
Published 03/10/2016 @ 04:37:21, By
dsl
So what should the Hooper-era Metrocabs be called? Just Metrocab as a single word ID, or is there a model name which can be added? Without a model name it could become a convenient default dustbin, and as the longest run in the sequence it should represent the biggest group, so this dustbin use might mushroom. And having plain Metrocab alongside Kamkorp-era Metrocab TTT seems clumsy.

But I'm not sure I'm really saying anything useful with these points given the circumstances, so they're comments rather than objections. And I've now run out of them.
Published 03/10/2016 @ 17:23:15, By
Sandie
My thinking was Metrocab without model name but with the series number as MK or, alternatively, we can have Series I, Series II or Series III as model names. We'd be forcing the Series I a bit but they did refer to the later ones (which should make up the majority of the "Hooper" listings) as Series II etc in brochures and sometimes the badges (like:
http://imcdb.org/vehicle_541496-Hooper-Metrocab-1999.html
). The TTT (one wonders why it wasn't just Series IV) actually came out before Kamkorp took over so that's one more inconsistency with the status quo.
Late last night when looking at them again I think I stumbled on a few minor changes between MCW and Reliant (and later) ones. I'll need to do a bit more checking but should be able to clean them a bit.
Published 03/10/2016 @ 17:55:19, By
dsl
I'd vote for that. If it's workable in practice (which will probably end up mostly on your shoulders), it should minimise dustbinning.
Published 03/10/2016 @ 18:18:31, By
antp
We can put a "by Hooper" in the extra info for those made by Hooper.
Published 08/10/2016 @ 05:23:39, By
Sandie